Maid Services
Good Housekeeping You Can Trust
Hiring professional help with businesses or households is a great way to take some of the stress of cleaning off your shoulders. With professional maid services, you can rest assured that only experienced and professional staff will be helping to keep your home sparkling clean.
Professional House Cleaning Services
Searching for home cleaning services can be a daunting task. Professional house cleaners make this process simple and hassle-free. They are well equipped to deliver outstanding service to guarantee a clean house. Their attention to detail ensures the home looks neat and is free from dust or germs. Furthermore, home cleaning services provide convenience, especially for busy professionals who need more time or energy to tackle the mess themselves. With experienced cleaners, one can rest assured that every corner of their home will be spotless and ready for visitors in no time!
SouthWest Maids provides professional house cleaning services throughout the Houston area. Their dedicated and experienced cleaners team will get your home spotless quickly. SouthWest Maids can provide reliable home cleaning services that you can trust, giving you back the free time you deserve to enjoy doing the things that make you happy. With SouthWest Maids, you're guaranteed a clean and sparkling home without lifting a finger.
Deep Cleaning Services
SouthWest Maids is the leading source of deep cleaning services in Houston. Their team of professional and experienced cleaners provides unmatched quality when it comes to residential and commercial properties. SouthWest Maids go above and beyond to tailor their services to your specific needs, taking the time to understand what kind of cleaning you require. Customers can expect a deep clean that leaves your home or business sparkling and organized and ensures that no nook or cranny is missed! SouthWest Maids provide a convenient solution to busy homeowners and business owners who need more time for extensive cleaning, leaving you with more valuable free time. SouthWest Maids are top-notch when it comes to deep cleaning in Houston!
What Does a Deep Clean Include?
A deep clean is exactly what you need when it's time to do a thorough cleaning of your house. It includes all of the normal tasks, such as vacuuming and dusting but takes it a step further. Deep cleaning requires things like cleaning surfaces beneath furniture, scrubbing baseboards, and polishing fixtures. Sparkling windows, spotless countertops and floors, and immaculate appliances are just a few of the results of a deep clean. While regular cleaning maintains orderliness in your home, a deep clean will give it an almost brand-new look that you'll love to show off to family and friends.
Our Other Cleaning Services


Apartment Cleaning



Holiday Cleaning



Office Cleaning



Housekeeping



House Cleaning



Move-In / Move-Out Cleaning



Specialty Cleaning



Bathroom Cleaning



Bedroom Cleaning



Dining Room Cleaning



Kitchen Cleaning



Laundry Room Cleaning



Living Room Cleaning
Our Other Cleaning Services
Apartment Cleaning
Bathroom Cleaning
House Cleaning
Housekeeping
Holiday Cleaning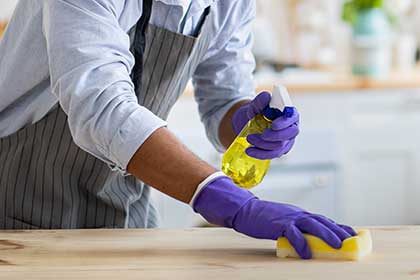 Move-In / Move-Out Cleaning
Specialty Cleaning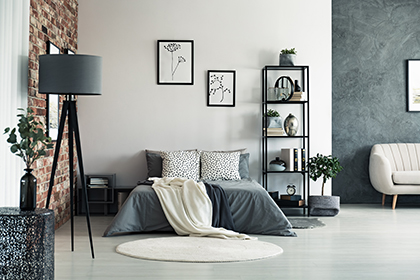 Bedroom Cleaning
Dining Room Cleaning
Kitchen Cleaning
Laundry Room Cleaning
Living Room Cleaning
Housekeeping Services – How It Works
Housekeeping services provide a convenient and time-saving option for those looking to get their homes clean and organized in the least amount of time. From dusting and floor vacuuming to laundry, kitchen cleanup, and more, these services offer a range of solutions to suit your needs. In many cases, you can choose from a customizable package that includes various services tailored to your home's needs. All services are provided by experienced professionals who use quality products and tools.
All work is done with an attention to detail that ensures each job is completed right the first time around – leaving you with nothing but a spotless home!
Get A Price
Tell Us About You, Your Home, And Your Cleaning Needs.
Book It
We'll Make Your Home Shine, And Run Any Errands You'd Like.
Breathe, Smile, Relax
The House Is Clean, The Errands Are Done. Time To Come Home.
Why SW Maids
Are you looking for a reliable house cleaning service? If so, Southwest Maids is definitely worth considering! Our experienced professionals use top-of-the-line equipment and environmentally friendly cleaning solutions to ensure a thorough and efficient job. Furthermore, our competitive rates make us one of the most affordable cleaning services. We even offer flexible scheduling so you can relax knowing that your home will always be taken care of at your convenience.
Truly, there is no better choice than Southwest Maids to keep your living space neat and tidy without breaking the bank!
We Never Cancel. Ever
Cleaning Is A Commitment. If We Ever Were To Cancel, We'd Pay You $100. Guaranteed.
Your Happiness, Guaranteed
We Ask For Feedback After Each Visit. If You're Not 100% Satisfied With Our Services, We Will Make It Right.
Know Who's In Your Home
Want The Same Cleaning Team Every Time? We Can Make That Happen, Just Let Us Know When You Sign Up For Service.
Quality Control
Our Quality Control Inspectors Follow Behind Our Teams To Make Sure We Deliver The Sparkly Results We Promise.
Cleaning Fast response
Southwest Maids would like to help provide relief in your home. We understand the importance of cleanliness, especially right now. Focus on school, work, family, and social obligations.
Allow us to unburden at least one aspect of your routine. Our expertise will ensure that every detail of your home's cleaning needs is met.
Choose from weekly, biweekly, monthly, or one-off cleaning. We provide service in Houston, TX, and the surrounding area.


Once you contact us, expect a response within 24 - 48 hrs.



Flexible Scheduling



We work around your schedule.



Locally owned and operated



We pride ourselves in serving our community and neighbors



Live Now



Clean Less
Call Us for a QUOTE!
Choose from weekly, biweekly, monthly, or one-off cleaning. We provide maid service in Houston, TX, and the surrounding area.
Frequently asked questions
Everything you need to know about maid services.
Are you supposed to tip maids at home?
Tipping maids when they clean your home or office is a personal choice, but it can be appropriate if they provide excellent service. Tipping helps show appreciation and gratitude for the hard work done by a maid to ensure that your space is clean and comfortable. Although tipping isn't necessary, considering what percentage of their income depends heavily on customers' generosity, it can certainly be considered polite. Ultimately, it comes down to comfort level and budget – what are you willing or able to tip based on the quality of service provided?
Do maids bring their own supplies?
When you hire a maid to come and clean your house, one of the many questions that may arise is if they bring their own supplies for the job. The answer to this usually depends on the individual maid service and what type of cleaning package you have purchased. Some services will include certain supplies, such as brooms and mops, dusters, and vacuums, in their cleaning package. Other services ask their clients to provide these items for their use. Generally speaking, it would be wise to find out from the company what they expect you to provide as some may need materials like detergents or paper towels that are not provided by them. Whether they bring their own supplies or not, having a maid come in can make a big difference in maintaining a comfortable and clean atmosphere within your home.
Do maids pick up clutter?
Maids are an invaluable asset in many households, so it's only natural for homeowners to want to know — do maids pick up clutter? The answer is yes! Maids typically tidy up messes and put objects away, eliminating clutter that has built up over time. Many go beyond general tidying and can even organize cupboards and closets to keep the home looking neat and organized. Regular maintenance of spaces helps minimize potential messes in the future. Next time you think your home needs tidying, remember that a friendly maid may be exactly what you need!
What should I do before my housekeeper comes?
Preparing for a housekeeper to come by can be quite a task. Firstly, consider setting aside a few cleaning supplies that the housekeeper can use if needed. Collecting dusters, rags, mops, and bottles of cleaning solution, to name a few, will make your housekeeper's job much easier when they arrive. Finally, providing them with clear instructions on what tasks need to be completed on the day can help kick off the job on the right foot. This could be done through notes or by adding the tasks into online software systems specifically designed for managing hired cleaners. Taking these measures with preparation can ensure that your housekeeper's visit is smooth and effective!